When employee planning is done in Scheduling Pro, the staffing report provides a summary of the planning so it's easy to see how the projects and employees are charged.
Go to:
User Menu > Reports & Tools > Management > Staff Report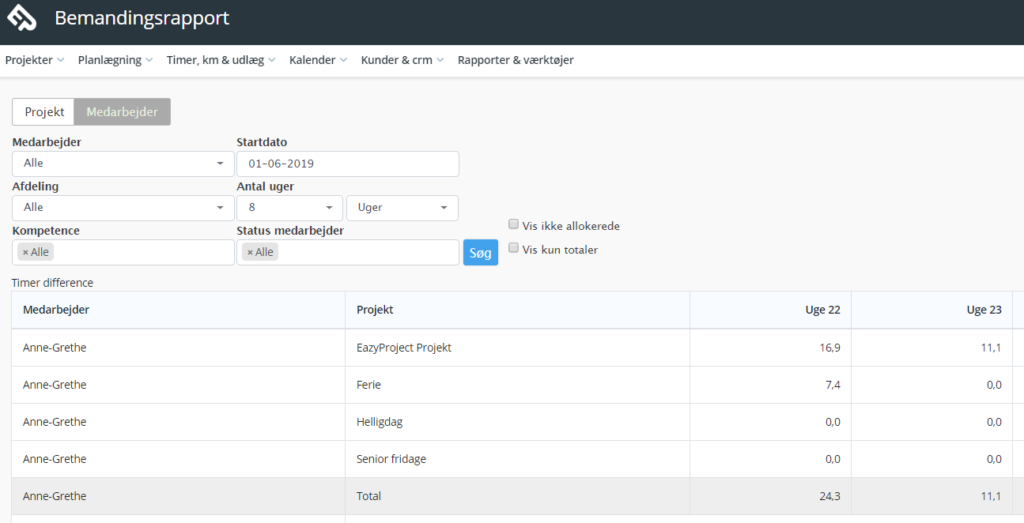 Load of employees
At the top left, you can choose whether you want to see staffing based on the employees or the projects. This is done by pressing Project or Employee.
Filter
Here you can choose all employees or one specific employee. If you press project, you can instead choose all projects or one specific project.
You can also sort by department, competence and employee status.
You choose a start date and how many weeks or months the report should show.

At the bottom of the report, week by week, how many hours are planned in everything, what the total capacity is and what it gives in difference.
You can also see FTE free.
FTE (Full-Time Equivalent) illustrates what the hours correspond to full-time days per week.
For this you can quickly get an overview of how many employees are missing or if there are too many of the planning – week by week.