The EazyProject calendar is a user-friendly visual tool for planning employees if planning with start and end times is desired.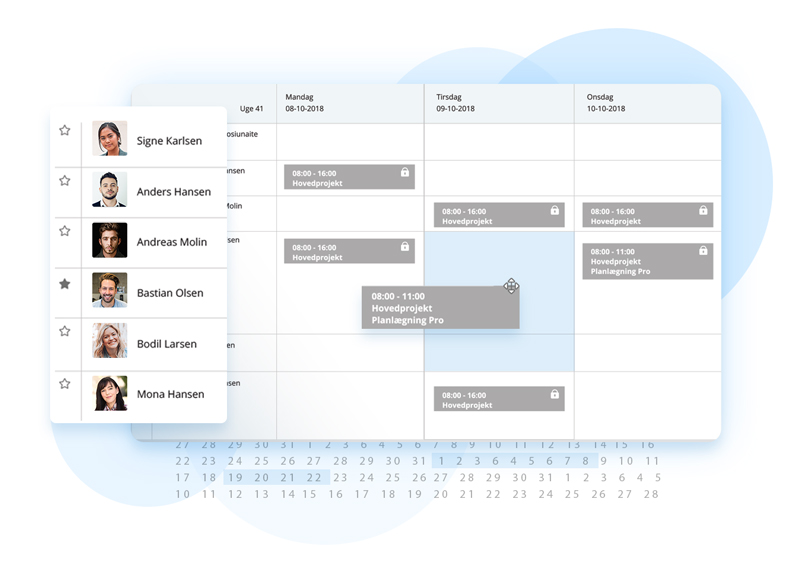 The EazyProject calendar shows everything that is planned in the calendar and Planning Pro, as well as the employees' registered vacation and absence.
NOTE! Scheduled registrations from Planning Pro as well as holidays and absence are read-only in the calendar.
The filters, display options, and customizable features that you select will be saved and remembered the next time you want to access the calendar.

Manning in the calendar
You staff your employees in the calendar via:
User Menu > Calendar > Employees
Click in the calendar at the desired time and next to the employee you want to staff. Then a pop-up window opens where you can fill in information related to the staffing.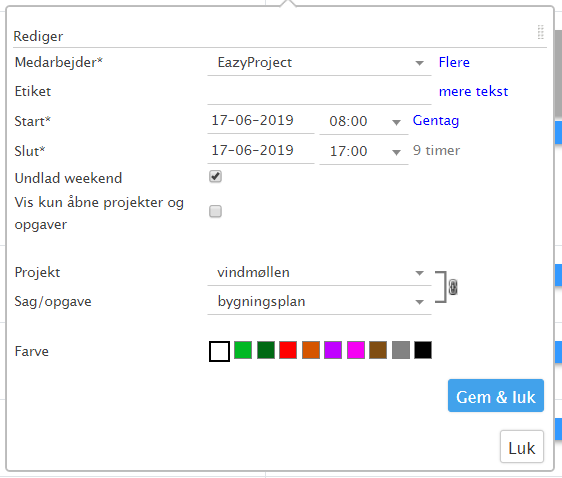 The employee you selected will automatically appear next to the employee.
If you want to staff another employee, select it from the drop-down menu. If you want to staff more, you press more than one employee.
You can also define the start and end dates as well as the time of the task and also press repeat if you want to create repetitions of the task.
If the task is to be allocated to a project and a task, you can choose these for project and Case / Task, otherwise you just leave the fields blank.
You can also attach a color to the task so that you can quickly get a visual overview.
Press save and close
Move and edit tasks
Edit
A registration or task created in the calendar can be edited by tapping the individual registration, after which the pop-up window opens again. You can also change the start and end dates via drag & drop.
The moving tool
To facilitate the work, if you need to change multiple registrations at the same time, the moving tool at the top right can help.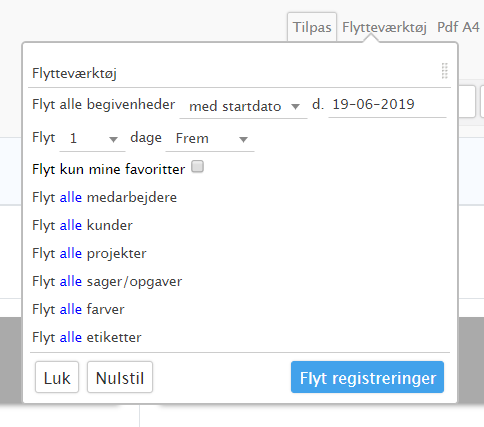 Here it is possible to move all events / schedules with start date or from a given date. Here you choose how many days you want to move, either forward or backward.
Through the other filtering options, you can define which employees, customers, projects, etc. which the relocation must apply.

Release calendar queue for Outlook
If this function is enabled in the system, it will be possible to send a calendar invitation to the employees' outlook, from the EazyProject calendar.
Only the final plans are sent. If changes are made after a broadcast, a cancellation and a new invitation will be sent.
If the function is on, you will find the function at the top right, next to certain week.
NOTE! If the feature is not enabled in the system, please contact our support.